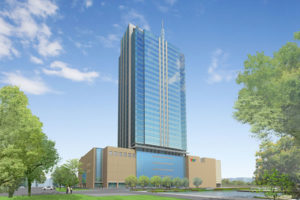 A touch of Savio in Europe's biggest research centreThe people of Hanoi in Vietnam have been walking around with their noses up in the air for a few weeks now. This is because there is a brand new building that has been attracting attention and – let's say it – literally soaring above the capital's architecture. It is the new headquarters of VTV, the national TV station of Vietnam, consisting of 25 floors with all-glass facades pointing straight up in the air and topped by an impressive antenna.
What the people of Hanoi don't know, however, is that this newcomer to the city's skyline contains quite a bit of Italy too, in that all the accessories for the hundreds of windows in the building were made by Savio. Our distributor in Vietnam, Dinh Van Vuong, told us about this great success story that he achieved together with Chau A, one of the leading hardware companies in this region, and Mr. Le Nghiem Dat, the technical consultant who helped define the solution that was installed.
The Savio solutions installed
And here are the products selected for this impressive work: 300 projected windows with a multipoint perimeter locking system and Heavy Duty friction adjusters. These accessories were selected for their high degree of reliability and strength over time, in view of the daily use that will be made by the hundreds of employees of the TV station.
This is a great testament to the quality of Italian products in a market such as Asia where there is plenty of competition, but it is the high levels of service and production technology that still make a difference when it comes to performance.